The Wikimedia Foundation has changed their donation web pages again. Now they cut off the "Recent contributions" at 400 pages of (max.) 25 donors each. Thus the commands I gave in the Wikimedia Fundraiser analysis article can't be repeated to give the full picture anymore. You can now only get a view of the last 9-10 days.
The implementation has obviously been done quite hastily. If you select the "Filter" to show only one page of results, you'll still get the (now hard-coded) 0 .. 400 pages selector at the bottom.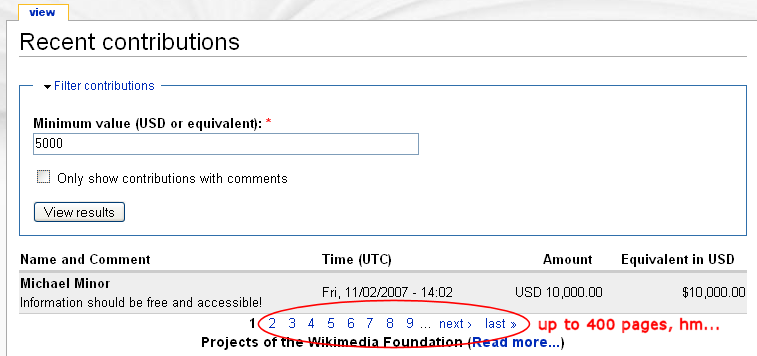 I've been pointed at two other resources on the recent fund raiser for information:
Updates
09.11.07: Casey Abell has added http://donate.wikimedia.org/en/node/22 to the comments which lists a daily report of the funds collected. Thanks Casey! The numbers match very well with my analysis. Wikimedia currently reports $27,97 average donation. I measured $27,85 six days ago. That seems stable. Interim conclusion:There are still major individual donations required to get anywhere above $2m.
10.11.07: Casey generates a nice graph of the daily funds collected here.